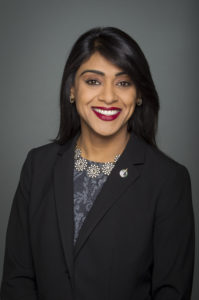 Alberta Enterprise Group (AEG) and supporting partner Edmonton Economic Development Corporation (EEDC) are pleased to present the Honourable Bardish Chagger, Minister of Small Business and Tourism, at a luncheon in Edmonton on July 11th.
Minister Chagger will talk about the role small businesses and tourism play as key drivers of the economy.
Luncheon with Minister Bardish Chagger
When: Monday, July 11th. Doors at 12:15 p.m. Program at 12:45 p.m.
Where: Riverview Room at the Shaw Conference Centre, 9797 Jasper Ave NW, Edmonton, AB T5J 1N9
Tickets:
AEG members: $60 for a single ticket, $480 for table of eight, plus GST
Non-members: $75 for a single ticket, $600 for a table of eight, plus GST
About Minister Bardish Chagger
A natural leader and organizer, Bardish Chagger is devoted to inclusion and community building. From assisting with recreational sports for kids to volunteering with seniors, Bardish is committed to strengthening the bonds of the Waterloo community.
In her role with the Kitchener-Waterloo Multicultural Centre, Bardish has worked to foster diversity within the community providing opportunities for social and economic engagement. As the former executive assistant to former Member of Parliament Andrew Telegdi, Bardish has a deep understanding of the issues that are important to residents of Waterloo, including manufacturing, technology and innovation.
Passionate about community involvement, Bardish has lent her support to many different causes and organizations including The Rotary Club of Waterloo, Interfaith Grand River, and the Workforce Planning Board of Waterloo Wellington Dufferin. She considers herself part of the Charter of Rights and Freedoms generation, and has participated in policy conferences on many issues including the advancement of same-sex marriage rights and the national manufacturing strategy.
Bardish graduated from the University of Waterloo with a Bachelor of Science. In 2012, The Waterloo Region Record recognized Bardish as one of "40 under 40" who would lead the Region of Waterloo into the future."